HSBC 'to cut 2,000 staff in UK'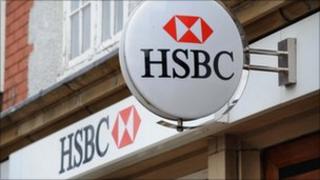 Banking giant HSBC is set to announce 2,000 job losses in the UK on Thursday as part of its global cost-cutting plans, reports say.
The bank, the biggest in Europe, employs more than 50,000 people in its British operations.
Its chief executive, Stuart Gulliver, has already said it will shed 30,000 jobs worldwide by 2013 as it looks to save $3.5bn worth of annual costs.
HSBC has declined to comment on the reports.
Together, the job cuts worldwide amount to about 10% of HSBC's total global workforce, although the company has stressed it will also be recruiting staff by 2013.
In contrast, the UK job cuts, if correct, would amount to only about 4% of its British workforce.
Last year, the bank cut 7,000 jobs worldwide, leaving it with about 288,000 employees.
"Unite will oppose any job losses at HSBC and is in dialogue with the bank regarding the speculation today," said Unite national officer for financial services, David Fleming.
"How can this bank consider staff cuts when it was the workforce that delivered it a profit of £13.8bn last year?"