Hyundai Motors profits rise as US and Europe sales grow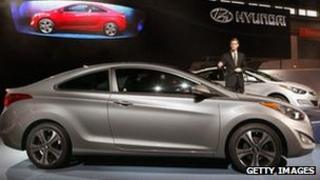 Hyundai Motors has said profit rose 31% in the first quarter as strong sales in the US and Europe helped to offset lower demand in its domestic market.
Net profit rose to 2.45tn won ($2.1bn; £1.3bn) in the January to March quarter, up from 1.88tn won last year.
The firm's sales in US rose 15% thanks to new models and the overall recovery in the US car market.
At the same time, the launch of compact models in Europe helped it to boost its market share in the region.
However, sales in South Korea fell 7% during the period from a year ago levels.
Analysts said the firm was expected to keep growing robustly.
"There is no reason why Hyundai can't continue this upward trend in the second quarter," said Kim Dae-Hwan of Shinyoung Asset Management.
"The US market looks fine and although there are slowdown concerns in Europe and China, in China foreign brands like Hyundai are performing well."
Japanese threat?
However, some analysts said that the firm may face growing competition from Japanese carmakers, not least because of the recent weakness in the Japanese currency.
The yen has fallen as much as 8% against the US dollar since the start of this year, falling from a high of 77.11 yen against the US dollar to 83.73 yen.
A weak currency bodes well for Japanese carmakers who drive a large part of their earnings from overseas sales.
"Profits don't only depend only on the sales volume - the jump or decline depends on the currency movements as well," Vivek Vaidya of Frost & Sullivan told the BBC.
He said that a weak currency means increased profits for Japanese carmakers, giving them extra cash.
"They are able to invest more in research and development, better marketing campaigns and even giving discounts to dealers and customers," Mr Vaidya added.
On the other hand, the Korean won has strengthened by 1.6% against the US dollar since the start of this year.