London 2012: BMW rejects criticism of Olympic VIPs' cars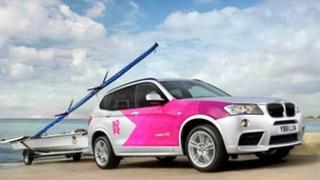 The German carmaker BMW has come out fighting following criticism about plans to use some 4,000 cars to ferry athletes and officials around London during the 2012 Olympic and Paralympic Games.
"We were chosen as the official automotive partner because our cars are best in class in terms of fuel economy and emissions in every segment of the market," said BMW UK's marketing director Chris Brownridge during the unveiling of the cars at a ceremony in London on Thursday.
His claim is supported by the Dow Jones Sustainability Index , which has named BMW Group the "most sustainable automobile company worldwide" seven years in a row.
Green campaigners have voiced concerns at plans to use powerful BMWs to transport VIPs in dedicated lanes. They have suggested the sole use of electric cars or that officials take public transport instead.
Low emissions
BMW does not deny that the cars are powerful. Indeed, the models that will be used during the Games are on average twice as powerful as the fleets of some mainstream mass-market manufacturers.
But in spite of this, and although most of BMW's cars will be quite large, the average carbon dioxide (CO2) emissions from its Olympic and Paralympic fleet is just 116 grammes per kilometre (g/km) - the same as Ford's tiny Ka.
By comparison, the average CO2 emissions from all cars sold in the UK in 2011 was 138 g/km, BMW insists.
'Cars are critical'
The average of the BMW fleet, which also includes models from its UK subsidiary Mini, is pulled lower by the inclusion of 200 electric cars.
However, even when individual models such as its 3-Series and 5-Series saloons are considered, the carmaker still meets the London 2012 Organising Committee's (Locog) 120 g/km requirement.
BMW's fleet also delivers more miles per gallon than the average delivered by all cars sold last year. The average for the BMWs and Minis used at the games is 64.5mpg, compared with the UK average of 54.2mpg.
Locog's transport director, Richard George, was eager to point out that "this is a public transport games more than anything".
"But it is also a massive traffic challenge," he added.
"The cars are critical to delivering the Games, and if we didn't have the Olympic route network there'd be a much bigger traffic problem in London."