Total profits hit by weak petrochemicals demand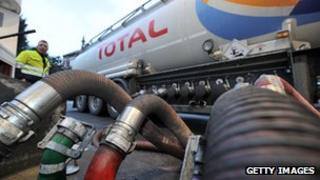 French oil firm Total has reported a fall in profits due in part to weak demand and high raw material costs at its European petrochemicals business.
Net income for the first three months of the year was 3.66bn euros ($4.82bn; £3bn), down 7% on a year ago. However, sales rose 11% to 51.17bn euros.
The company also said that asset sales had reduced refining output.
Also on Friday, Italian oil firm ENI reported a 42% rise in first quarter profits to 3.62bn euros.
"ENI delivered excellent results thanks to the ongoing recovery of production in Libya and higher oil prices, despite the difficult market environment facing gas and power, refining and marketing and the chemical sector," said chief executive Paolo Scaroni.
'Satisfied'
Despite higher oil prices, Total said weak demand for petrochemicals had hit profits.
"In the context of oil prices that were favourable for upstream but difficult for refining and chemicals, the group is satisfied with its first-quarter profit," chief executive Christophe de Margerie said.
On Thursday, Royal Dutch Shell announced an 11% rise in profits to $7.66bn (£4.74bn) in the first quarter.
US giant Exxon profits fell 11% to $9.5bn after oil production fell 5%.