Homeland beckons for UK's Brazilians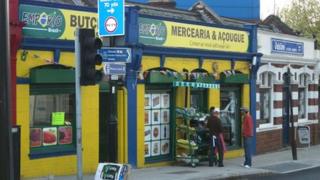 If you're a Brazilian living in the UK, you certainly didn't come for the weather and you don't want to stay for the high property prices.
Officially, there are about 50,000 British-based Brazilians, although some community groups say the true number could be four times as high.
Generally, they moved here when economic times were tougher in their homeland, braving the inhospitable climate for the chance of better job prospects.
But now that Brazil has overtaken the UK to become the world's sixth-biggest economy, many of them are feeling "saudades", or homesickness for Brazil.
In the Willesden Junction area of west London, Brazilian-run businesses are flourishing. But it seems as though everyone you meet there is either planning to return to Brazil or knows someone else who is.
Behind the counter of a butcher's shop that sells Brazilian-style cuts of British meat, 44-year-old Antonio Luz is one of them.
He came to Britain from his home city of Goiania six years ago, but dreams of being his own boss back home.
"I think I will stay two years more and then I will open a small shop or restaurant in Brazil," he says.
Waxing and waning
Mr Luz is not the only one who is paying attention to the latest shifts in the global balance of economic power.
The UK's latest dip into recession is likely to be short-lived, but the International Monetary Fund reckons the country's economy will grow just 0.8% this year.
Contrast that with Brazil, which is expected to notch up a rather healthier 3% growth.
"I hear a lot of people saying 'I'm going back to Brazil' because there's a lot of job opportunities there and an economic crisis in the EU," says Simone Pereira, who is the press officer for the local Brazilian association, Abras.
"But Brazilians are still coming to England, particularly from other countries such as Portugal and Spain, where the economy is worse."
The association that Ms Pereira works for was the first of its kind in the UK when it was created in 2006.
It now represents 7,000 families who pay £50 a year to benefit from its services, which include legal advice, help with various kinds of British bureaucracy and even psychological counselling.
Her job makes her well attuned to current trends in the Brazilian community - and she, too, has seen people go back home in search of a better life.
Most recently, a friend of hers from the southern city of Florianopolis, who had spent 13 years in the UK running his own painting-and-decorating business, decided to make the return journey.
"He came here with his wife and two children, not speaking a word of English," she says.
"But now his daughter is living in Brazil and going to university, and he thought things would be better there."
Rising prices
But while growth may be surging back in Brazil, so is the cost of living.
According to the IMF, consumer price inflation in the UK is forecast to be 2.4% for the whole of 2012. But in Brazil, it is set to come in at 5.2%, and has rarely dropped much below that level in the past decade.
Of course, that is nowhere near as bad as the 2,000% to 3,000% annual inflation that plagued Brazil during the late 1980s and early 1990s.
But it is still enough to give expat Brazilians pause for thought before saying goodbye to life in the UK.
"I was in Sao Paulo in December and I was really surprised by the prices," says Ms Pereira. "I found things quite expensive."
That includes Brazilian house and flat prices, which have risen sharply over the past five years.
Research consultancy Capital Economics says that although detailed figures are hard to come by, available evidence suggests that residential property prices have more than doubled in Sao Paulo since 2008 and nearly tripled in Rio de Janeiro.
The sheer scale of those increases may come as a shock to Brazilians who have been living in the UK during that time.
For instance, one woman thinking of moving back to Sao Paulo after six years in London gives high UK property prices as one of her reasons for going.
The last straw, for her, was finding out that a two-bedroom flat in her chosen area of London would cost £300,000 ($484,000).
"For that money," she says. "I could buy a four-bedroom home in Alphaville" - a luxury gated community in the greater Sao Paulo area.
She may well be disappointed. Judging by estate agents' ads on the internet, only the smaller apartments in that area would fit her price range.
And whereas British property prices appear to be stagnating at present, Brazil's house price bubble is still growing.
"Our best guess is that Brazilian property is, on average, overvalued by around 30-50%," says Capital Economics' Neil Shearing.
New arrivals
Other countries with large concentrations of Brazilian residents have seen a similar exodus.
In particular, many Brazilians of Japanese descent who moved to the country of their ancestors in the 1990s have now made the reverse journey.
Since 2008, the number of Japanese-Brazilians living in Japan has fallen from 300,000 to 210,000.
But in west London, at least, there are still new arrivals from Brazil who are looking for economic opportunities.
In the Emporio Brazil shop across the road from the Abras offices, Lorena, a student who has been in the UK for just four months, is serving behind the counter.
Her stock includes items such as Havaianas flip-flop sandals and bottles of guarana-flavoured soft drink alongside fruit and vegetables. "As if you were there!" proclaims a sign over the door in Portuguese.
She admits that working in a Brazilian shop isn't exactly helping her in her efforts to learn English. "But not all the customers are Brazilian - there are lots of English people too," she adds.
Lorena is following the classic pattern of many Brazilians who have come to the UK. But nowadays, as Ms Pereira of Abras points out, not every Brazilian you meet in London is actually a resident.
"In the past, all the Brazilians here were studying or working," she says.
"But in the last four or five years, there are more tourists. A lot of Brazilians are coming to Britain for tourism, because they can afford more than before."
So it looks as though the UK will continue to be a popular destination for Brazilians in future - but they may well choose just to visit, not stay.