Unison says no mandate for action after NHS ballot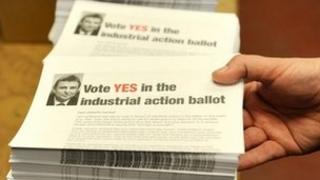 The Unison trade union has said there is "no mandate for further industrial action" in protest against government reforms of the NHS pension scheme after a low turnout in a members' ballot.
Of the 300,000 members balloted, 50.4% voted to reject the pension reforms, and 49.5% to accept them. However, turnout was less than 15%.
Unison said it would consider its next step and consult other health unions.
The government wants NHS workers to pay more into their pensions.
It also wants them to work longer before taking their pension, and to take an income in retirement based on their career-average wage rather than their final salary.
"The low turnout coupled with the close vote shows there is no mandate to endorse the pensions' proposals, but equally no mandate to take further industrial action," said Unison's head of health Christina McAnea.
"The turnout is disappointing but in some ways is not unexpected... [it] reflects the low morale and current difficult state of the NHS."
The government's pension plans have been largely inspired by Lord Hutton's independent inquiry into the rising cost of public service pensions.
He suggested that most staff should pay higher contributions, with the increases being phased in during the next three years.
Then, from 2015, most current staff and all new recruits would be offered career-average schemes instead of the more expensive, mainly final-salary, versions now on offer.