Time Warner hit by $35m cancellation costs for Luck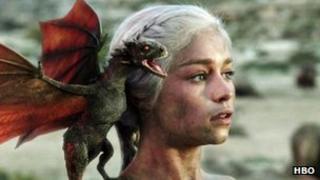 Media firm Time Warner has said its profits fell in the latest quarter, with its home entertainment and publishing divisions showing some weakness.
Net profit for the three months to 31 March fell to $581m (£358m) from $651m in the same period last year.
The company, which owns TV network HBO, said it was hit by a $35m impairment charge for cancelling its lavish TV horse-racing drama Luck.
Revenues rose by 7% to $6.98bn.
Time Warner's profit decline included restructuring and severance costs.
Luck, which starred Dustin Hoffman and Nick Nolte, was filming its second season. Three horses were injured and put down during filming, prompting the cable network to cancel the show.
But Time Warner added that HBO's Game of Thrones has been the most watched drama on basic cable in the US for the first four weeks of its second season.
Revenue at its Warner Bros film studio increased by 7% to $2.8bn.
"Warner Bros is having a terrific 2011-2012 TV season, with excellent performance from returning shows like The Big Bang Theory and Two and a Half Men as well as new breakout hits like 2 Broke Girls," the media firm said.
The company is looking to higher revenues later this year generated from the Johnny Depp-starring Dark Shadows, director Christopher Nolan's third Batman film, The Dark Knight Rises, and the first instalment of The Hobbit.
But at its publishing division, Time, revenue fell 3% to $773m on lower sales from newsstands.