Morrisons reports falling sales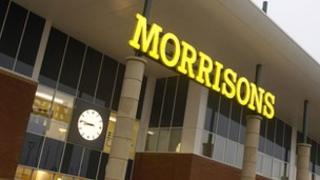 Supermarket chain Morrisons has reported a fall in underlying sales for the three months to the end of April.
Like-for-like sales, which ignore new store openings, fell 1% excluding fuel. Total sales were up by 1.5%.
Morrisons said the economic environment for the consumer had "remained challenging" and added that the board "remains cautious".
Morrisons is the fourth biggest UK supermarket chain behind Tesco, Sainsbury's and Asda.
Analysts said the fall in sales reflected the particularly strong first quarter of 2011, when like-for-like sales rose 2.5% helped by warm Easter weather and the royal wedding.
"As expected, the economic environment for the consumer has remained challenging, with the high price of oil and other commodity prices putting pressure on disposable incomes," Morrisons said in a statement.
Like-for-like sales including fuel rose 0.9%, while total sales including fuel climbed 3.1%.
The disparity between like-for-like sales and total sales reflects the opening of new stores, with 34 opening last year.