Diageo reports 6% growth in quarterly sales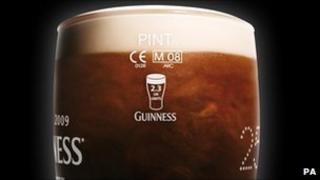 Diageo, the world's biggest producer of spirits, has reported rising sales for the first three months of the year.
Organic sales, which exclude the impact of acquisitions, rose by 6% in the quarter.
A recovery in North American sales and strong growth in emerging markets helped offset a 1% decline in sales in Europe.
Diageo is the company behind brands such as Guinness, Smirnoff, Baileys, Johnnie Walker and Captain Morgan.
"Our year to date performance continues to demonstrate that Diageo is well positioned with our balance of businesses across categories and with a large and increasing presence in the faster growing emerging markets," said chief executive Paul Walsh
Last week, Diageo's rival Pernod Ricard reported 3% growth in its quarterly sales.
Total sales at Diageo grew 11% in the quarter. The figure was larger than organic sales mainly due to the acquisitions of Mey Icki, Serengeti Breweries and Meta Abo Breweries.