Rupee rises as India delays new tax avoidance rule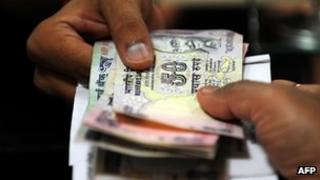 The Indian rupee has strengthened after the government said on Monday that it would delay proposed laws targeting tax avoidance by one year.
The legislation would allow authorities to scrutinise deals where they think taxes may have been avoided by routing investments via other countries.
However, critics said the laws were not clear and there were fears they could impact foreign investment funds.
The rupee gained almost 1.5%, rising to 52.91 against the US dollar on Tuesday.
"For foreign institutional investors (FIIs), their near-term concern over the General Anti-Avoidance Rules (GAAR) is resolved now," said KK Mital of Global Capital.
"FII inflows will definitely improve and there will be a restoration of confidence."
Weak fundamentals?
However some analysts said the rise in the Indian currency may only be a temporary one, not least due to concerns about India's overall economic growth.
India's economy grew at its slowest pace in almost three years during the first three months of the year.
Meanwhile the rate of inflation continues to remain high despite efforts by the central bank to rein in price increases.
To make matters worse, high volatility in global oil prices have made it tough for policymakers to control consumer price rises.
Analysts said that given these issues, the rupee is likely to remain under pressure.
"Elevated oil prices and cooling growth momentum, against a backdrop of high inflation, continue to create a poisonous environment for the currency," said Jonathan Cavenagh of Westpac.
Mr Cavenagh added that even though oil prices had fallen recently, low prices needed to be "sustained for a longer period" for them to have a positive impact on the rupee.