Aviva boss Andrew Moss to step down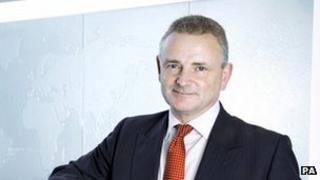 Insurance firm Aviva has announced that group chief executive Andrew Moss will be leaving with immediate effect.
The move comes after the firm suffered the embarrassment of losing a shareholder vote on executive pay at its annual general meeting last week.
He is the latest boss to face pressure from investors unhappy that pay levels do not reflect company performance.
Almost half of voters were against betting chain William Hill's pay awards at its AGM on Tuesday.
Investors complained about the £1.2m bonus paid to chief executive Ralph Topping, which is not linked to performance.
However, chairman Gareth Davis said there would be no going back on the bonus.
"I am a man of my word and I will not renege on that deal," he told shareholders.
"We have no intention of backing off... the management of William Hill is demonstrably creating value for all shareholders."
A number of companies have faced shareholder opposition to executive pay in recent weeks, including Barclays bank, miner Xstrata and Premier Foods.
The government is currently looking at introducing legislation so that pay levels have to be approved by shareholders before they can be agreed.
'Respect'
Aviva's Andrew Moss will receive a payout of about £1.5m.
He had already turned down an annual salary increase to try to ease concerns about pay levels.
Chairman designate John McFarlane will replace Mr Moss on an interim basis while the board looks for a permanent replacement among internal and external candidates.
Mr McFarlane said he was excited to take on the role.
"My first priorities are to regain the respect of our shareholders by eliminating the discount in our share price and to find the very best leader to be our future chief executive," he added.
Aviva chairman Lord Sharman said Mr Moss had "reduced the cost base and improved operational performance" at the company.
"We should acknowledge the progress that has been achieved under [his] leadership," he said.
The insurer did not give a reason for Mr Moss's departure, but analysts said shareholder pressure was behind the move.
"We suspect that the latest batch of negative headlines over the remuneration report at the AGM was the last straw and Moss had to go," said Barrie Cornes at Panmure Gordon stockbrokers.
"Few will shed any tears given his handling of the business over the last few years, which has seen the shares massively underperform the sector."
Shareholder support
Last week, 54% of Aviva shareholders voted against the company's annual remuneration report, which covers its pay and bonus packages.
They were angry about the amount the new UK chief executive, Trevor Matthews, was paid when he joined, as well as the falling company share price, which has slumped by more than a quarter in the past 12 months.
It is only the fourth time that a FTSE 100 company has lost a vote on a remuneration report.
However, shareholders voted overwhelmingly to re-elect Mr Moss as chief executive, with 95% in favour.
Earlier in the week, Mr Moss, who became Aviva's chief executive in 2007, had agreed not to take a rise in his pay, which would have taken his £960,000 salary to above £1m.
Last month, 27% of Barclays shareholders voted against its remuneration report, while miner Xstrata and Premier Foods have also seen large numbers of shareholders vote against proposed executive pay increases.
Shareholder votes on pay are not currently binding, but the government is looking at changing the law to make boards more accountable to their investors.
The Department for Business is consulting on legislation that would mean pay deals require the support of 75% of shareholders.
Business Secretary Vince Cable is meeting investor and shareholder groups this week to discuss the issue.
It is also expected to be mentioned in the Queen's Speech on Tuesday.