House market back in the doldrums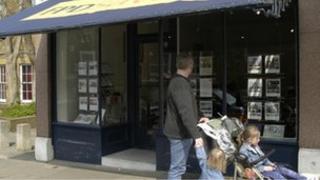 The brief flurry of activity in the property market has come to an end, says the Royal Institution of Chartered Surveyors (Rics).
Its monthly survey of members who work as estate agents shows that sales fell in April, for the first time since last September.
Rics said this was due to the end of the stamp duty holiday for first-time buyers.
The survey also found that house prices continue to fall, except in London.
"With the recent surge in activity brought on by the stamp duty holiday coming to an end, it is unsurprising to see that prices across much of the country are continuing to fall," said Peter Bolton King, housing spokesman for Rics.
"Renewed concerns over the economy and talk of a double-dip recession dominating the headlines in recent weeks may well have served to undermine consumer confidence.
"What's more, the continuing lack of affordable mortgage finance is still hindering many first-time buyers who cannot afford to get a foot on the property ladder," he added.
'Tougher criteria'
The Rics survey adds to a growing body of evidence suggesting that the brief upturn in activity in the first three months of the year has faded.
Both the Halifax bank and the Nationwide building society have reported that prices dipped in April as activity petered out following the end of the stamp duty holiday on 24 March.
And the Bank of England said that the number of mortgages approved in both February and March was down sharply from the figure in January.
Mark Harris, chief executive of mortgage broker SPF Private Clients, said the dearth of easily available mortgages was still the biggest influence on the market.
"Although interest rates have not risen in more than three years, lenders continue to raise their mortgage rates on the back of the higher cost of wholesale funding," he said.
"Tougher criteria, particularly regarding interest-only borrowing, are not helping, giving borrowers the impression that it is much harder to get funding.
"Consequently, many aren't bothering, preferring to adopt a 'wait and see' attitude, rather than take the plunge and purchase at the present time," he added.
The Co-op bank recently stopped lending any new mortgages on an interest-only basis.
The Bank of England recently published data showing that the cost of the average two-year fixed rate mortgage deal, with a 25% deposit, had risen from 2.9% last September to 3.45% in March.