Barratt reports best spring home sales in five years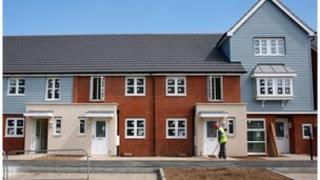 One of the UK's biggest homebuilders, Barratt, says its spring selling season has been the strongest in five years.
Barratt says that 25% more potential homebuyers reserved properties in the 18 weeks to 6 May compared with the same period last year.
The average selling price rose 5% to £202,000.
Barratt has concentrated its building in London and the south-east of England where house prices have remained relatively robust.
In its interim statement , Barratt said: "Whilst the economic outlook remains uncertain and the availability of mortgage finance continues to be a constraint, we expect the benefits of the various government initiatives to continue to provide support to the industry."
Barratt is working on 397 sites, which is up from 374 in the same period last year.
The company expects to buy 10 thousand plots in the current financial year.
Barratt says there has been strong interest in the government's NewBuy scheme to help potential homebuyers.
About 70 customers have used the scheme to reserve homes since its launch on 12 March.
The NewBuy scheme allows participants to buy a home with as little as a 5% deposit.