UK producer prices rise 0.7% in April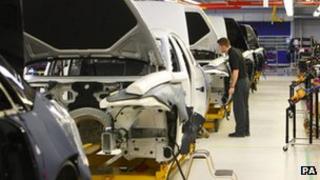 UK producer prices rose 0.7% in April from March, owing in part to rises in the cost of tobacco, alcohol and electrical equipment, figures show.
On an annual basis, prices rose by 3.3%, the lowest rate for more than two years, the Office for National Statistics (ONS) said.
Annual producer price inflation has been slowing since September last year, when it rose by more than 6%.
Input prices fell by 1.5% month-on-month because of oil price falls.
Year-on-year, input prices rose by 1.2%, a sharp slowdown from the 5.6% rise recorded in March.
"The significant fall in input prices is not surprising, given the weakness of the commodity markets over April and also the strength of sterling," said Philip Shaw at Investec.
"It's somewhat disappointing that the rates of factory gate inflation has only fallen to 3.3%, which perhaps bears out the hypothesis that inflation is due to remain relatively sticky over the next six to 12 months."
The overall inflation rate rose to 3.5% in March, as measured by the Consumer Prices Index (CPI), but is significantly lower than the 5.2% recorded in September last year.
The Bank of England has forecast that inflation will fall back this year towards its target rate of 2%.
Separate figures from the ONS showed a 4.8% contraction in output from the construction industry in the first three months of the year compared with the previous quarter, and a 3.7% drop from a year earlier.
The dip in construction was the main factor behind the UK falling back into recession in the first quarter.
Figures released last month showed the UK economy shrank by 0.2% between January and March, the second straight quarter of economic contraction.