FTSE 100 bosses' pay unrelated to results, report says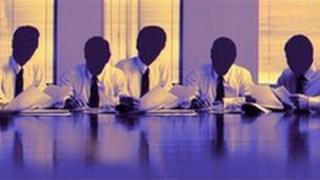 Bosses of the UK's biggest companies earn millions in "excess remuneration", a report reveals.
Pay packages designed to incentivise FTSE 100 chief executives had little effect on company performance, it found.
Reckitt Benckiser, ICAP, and BG Group are among the "worst value FTSE 100 companies", said Zurich-based financial research firm Obermatt.
The report was conducted for BBC Radio 4's More or Less programme.
Pay-for-performance
The researchers compared profit growth and total shareholder return against the total realised pay earned by bosses between 2008 and 2010.
They found that former Reckitt Benckiser boss Bart Becht earned £138.6m more than the performance of his company justified - an 1,199% overpayment.
In response to the report, a spokesperson for Reckitt Benckiser told the BBC: "We do not recognise these figures, which have not been put to us for verification, and believe that Obermatt is completely mistaken in its analysis of our remuneration policies."
"Shareholders in Reckitt Benckiser have enjoyed some of the highest returns in the FTSE 100 over the past ten years."
According to the report, bosses at ICAP and BG Group earned £31.6m and £30.3m respectively in "excess remuneration".
But Admiral, Autonomy and Hargreaves Lansdown were ranked best for "pay-for-performance value".
Neil Burrows, head of external communications for BG Group, told the BBC: "Our policy is to align remuneration policy with the interests of shareholders. The majority of our chief executive's pay package is linked to long-term performance incentives.
"Our share price has risen 400% since 2000 and we've outperformed the FTSE 100 index by a significant margin in the last three years."
Dr Hermann Stern, Obermatt chief executive, told the BBC: "We found that there was absolutely no pay-for-performance link in the UK for those three years.
"Remuneration committees never want to pay below average. They are more worried about retention than performance. So this has led to spiralling pay inflation."
Shareholder spring
In what's been dubbed a "shareholder spring", shareholders of several companies, including Aviva, Trinity Mirror, Barclays and Pendragon, have registered their displeasure at overly-generous pay and bonus packages.
Earlier this week, Aviva's boss resigned after his firm's pay plan was rejected by 54% of voting shareholders.
And Barclays suffered embarrassment last month when nearly a third of shareholders refused to back the bank's remuneration report.
On Thursday, Business Secretary Vince Cable told the BBC that levels of executive pay were "ludicrous".
Under proposals in the Queen's Speech, delivered on Wednesday this week, shareholders would be able to vote down directors' pay they deemed excessive.
Currently, their vote on remuneration is non-binding.