JPMorgan's Dimon wins pay backing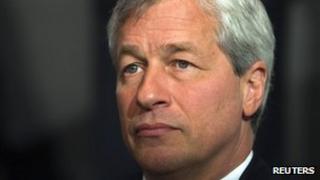 The head of JPMorgan Chase, the biggest US bank, has been backed by shareholders days after it revealed a $2bn (£1.2bn) trading blunder.
At its annual shareholder meeting in Tampa, Florida, 91% of those who voted backed Jamie Dimon's $23m pay packet for the last year.
And a vote to strip Mr Dimon of his dual titles of chief executive and chairman won only 40%.
But most ballots were cast before the trading loss was announced.
Mr Dimon has called the shock loss a "terrible, egregious mistake" and told reporters after annual meeting: "The buck always stops with me."
The meeting happened as media reports say that the US Justice Department has begun a probe into the loss .
'Dead wrong'
On Sunday, Mr Dimon said he was "dead wrong" to dismiss concerns about trading at the bank.
On Monday, the Wall Street firm said Ina Drew, who oversaw the London-based division responsible for the trading mistake, would leave after more than 30 years.
The losses were made at a small trading unit in London. Reports suggest that Achilles Macris, head of the unit, and Javier Martin-Artajo, a member of the desk, could also resign.
They also suggest the position of trader Bruno Michel Iksil, nicknamed the London Whale, will come under scrutiny.
The trading loss was revealed in a regulatory filing, and will dent the company's profits, although it still expects to make about $4bn this quarter.