UK manufacturers want more support, says survey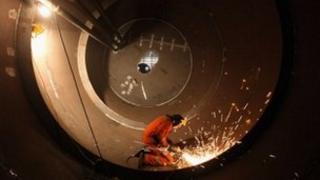 UK manufacturers want the government to offer more practical support to the industry rather than "empty rhetoric", according to a new survey.
The creation of an "industrial bank" and a new focus on manufacturing skills are among ideas supported in the research by business advisers BDO.
There's also a call for UK companies to be favoured when public contracts are awarded.
The government has said it wants to diversify the UK economy.
The BDO survey asked the opinions of 1,500 manufacturers and engineers.
Of those, 93% said they were pleased that ministers were renewing their commitment to the sector.
'Words are not enough'
However, only 26% said they thought the government was adopting the right policies to support a growth in the manufacturing sector.
And around half didn't think manufacturing would be a core part of the UK economy in a decade's time.
"If there's one overriding message we're hearing from manufacturers, it's that words are not enough," said Tom Lawton, head of manufacturing for BDO.
"Our research suggests that policy pledges amount to empty rhetoric, not concrete change."
Mr Lawton points out that countries like Germany, Japan and China have managed to build sustainable manufacturing sectors by establishing the sector as a priority.
"Optimism for longer term economic growth is encouraging, but it's worrying that manufacturers don't envisage they'll have a significant role in achieving it," he said.
The coalition government wants to boost manufacturing as a way of offsetting austerity measures and re-balancing the economy.
They also see it as a way of reducing the UK's reliance on the South and the financial services sector for jobs and tax revenues.