SSE sees profits rise to £1.3bn despite 'challenges'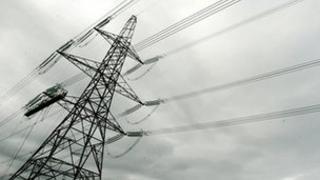 SSE, one of the UK's biggest energy suppliers, has seen profits rise 2% as growth in the power generation division offset a fall in the retail operation.
The pre-tax profits of £1.33bn were adjusted to take account of several exceptional items and reflect the underlying performance of the business.
SSE said that it had been a year of upheaval in global energy markets and economic uncertainty.
SSE, formerly Scottish and Southern Energy, raised the dividend by 6.8%.
The company, based in Perth, said operating profit at its wholesale business unit - which includes the production, storage and generation of energy - was up 6.4% to £607.9m, boosted by higher output of renewable energy.
But operating profit in the retail division, which supplies electricity and gas to households and businesses, fell 20% to £321.6m.
Without the adjustment in profits, pre-tax profits fell to £268.5m from £2.1bn.
Chairman Lord Smith of Kelvin said: "There are three issues over which SSE has no control but which in one way or another touched every part of its business... upheaval in global energy markets, widespread economic uncertainty and the weather.
"Higher wholesale gas prices, falling demand for energy and a succession of winter storms presented major challenges for the wholesale, retail and networks parts of SSE."
'Uncertain outlook'
But he said that SSE had shown "resilience", and he also defended the industry against critics.
"For some people, 'profit' and 'dividend' are contentious words when it comes to energy, but profit and dividend allow SSE to employ people, pay tax, make investments that keep the lights on and provide an income return that shareholders like pension funds need," he said.
The company added in a statement that "the economic outlook for the UK and Ireland in 2012/13 continues to be uncertain".
Last week, British Gas-owner Centrica said that the trend for prices "remains upwards".
In September last year, SSE raised gas prices by 18% and electricity prices by 11%, but then in March it cut gas prices by 4.5%.