Mortgage lending jumped in March, lenders say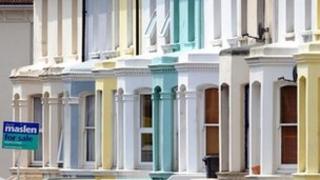 There was a big rise in mortgage lending in March, as the stamp duty holiday for first-time buyers came to an end, lenders have said.
The Council of Mortgage Lenders said 51,200 new mortgage loans were granted to home buyers, up by 44% from February and 31% higher than in March last year.
Among first-time buyers, new loans rose by 74% from February, to 24,000.
However the CML warned that the rise was certain to be a one-off event with lending likely to fall back again.
"We expected this significant increase in borrowing for March because of the stamp duty holiday," said the CML director general Paul Smee.
"However, if lending follows the same pattern as after previous stamp duty concessions, we will likely see a drop in activity in the next few months.
"It will take some time before we can judge whether other initiatives such as the New Buy scheme and the reinvigorated right to buy will compensate for this effect," he added.
The stamp duty holiday had let first-time buyers buy homes without paying 1% stamp duty so long as the properties were worth less than £250,000.
Introduced by the last Labour government, the scheme was brought to an end by the coalition on 24 March on the grounds that it had failed to make much difference to the ability or willingness of first-timers to buy a home.
'Encouraged'
The government has recently launched its New Buy scheme to try to help revive the property market.
In this scheme, property developers will insure the top slice of any losses on 95% mortgage loans granted by lenders in England, if the loans are used to buy the developers' newly-built properties.
The idea is to stimulate the sale of an extra 100,000 homes to people who would not otherwise be able to buy, because they cannot put down a larger deposit of, say, 10% or 20%.
Mark Harris, of mortgage broker SPF Private Clients, noted that the end of the stamp duty holiday in March meant that first-time buyers, "raced to beat the deadline, which had a trickle up effect on the rest of the market as many were at the start of chains".
"However, a dip in transaction levels for April onwards is inevitable, underlining the fact that we are not yet seeing a sustained recovery in the housing market," he added.
"With figures out this week indicating that there have been only five completions under the [New Buy]scheme, there is a long way to go until its success is proven."
But Grants Shapps, the housing minister, argued that the figure of just five New Buy completions was completely misleading.
"We are seeing more and more completions regularly coming through, rendering the figures in this survey inaccurate and out-of-date," he said.
"I have met five New Buy purchasers in one development alone in my own constituency.
"Given that sales on new-build homes typically take between three and six months to complete, I am very encouraged by this," he added.