UK economy: Underemployment on the rise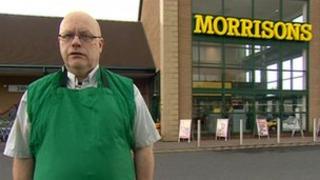 Unemployment may have fallen last month, but this figure is masked by the growing number of people who are being forced to work part-time because they cannot get a full-time job.
"Underemployment" has reached another record high, with a further 73,000 people joining the ranks of the underemployed over the last quarter.
It now means more than 1.4 million people are not getting the hours they want or need.
It is a phenomenon on a scale that we've never seen before.
And it appears to be affecting people right across the jobs market. And not just women.
Strain
There are now 645,000 men in forced part-time employment. Or to put it another way, more than a third of men in part-time work say they cannot find a full-time job.
While some work is clearly better than no work at all, this downsizing of hours and income is putting workers and their families under considerable strain.
Bill Cawley, 57, last had a full-time job in 2005 and has been forced to work part-time ever since.
He says not a day goes by when he doesn't think about where his next payment is coming from.
Mr Cawley is more resourceful than most.
He does 20 hours a week as a check-out operator in supermarket Morrisons - a job he enjoys - and he writes freelance articles for local newspapers. He also dons a top hat to lead an evening ghost tour of Leek to top up his income.
But he says the going is tough.
"It's a struggle to meet basics like fuel bills. I have an eight-year-old daughter and ensuring that she's properly clothed and fed is always a difficult thing to do. Money is tight," he says.
Mr Cawley is one of an army of male part-timers who feel over overlooked.
"It's frustrating. I'm trying to do the best I can in difficult circumstances. In our part of North Staffordshire there are very few jobs available," he says.
'Dead space'
Economists are attempting to understand the reasons for underemployment - exactly who is being hit and why.
According to research from the TUC, involuntary part-time work has risen more quickly than unemployment since the start of the recession.
During this period, the number of men in this position has risen by more than 115%.
And nearly a third of young people in work are having to do part-time hours, even though they want a full-time job.
Dougie Walker, 26, knows all about that. He currently does an average of 13 hours per week working in the box office of the Komedia club in Brighton.
He's happy with his job but there is little prospect of any more hours.
"I think my generation is in this strange dead space in terms of careers," he says.
"Almost everyone I went to university with had to do internships and work for free, some up to a year. And I've got other friends doing part-time jobs."
He is coping but things have not gone as planned since he graduated in 2008.
"I don't have enough work to fully pay my rent and support myself. It's a combination of benefits and friends until I hit a good patch where I can pay a few things off," he admits.
Both Mr Walker and Mr Cawley - at different ends of their working lives - remain optimistic and each still nurture their own ambitions.
It just may take a lot longer than they expected.