Toshiba stops domestic LCD TV production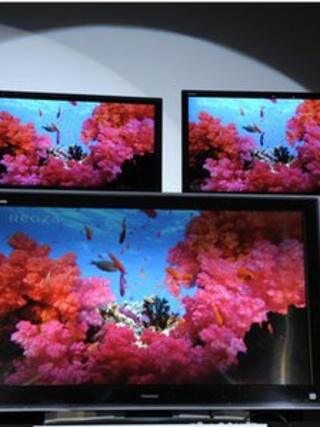 Toshiba has halted production of LCD televisions in Japan due to falling demand, a spokesman has told the the BBC.
The producer of Regza brand TV sets said it had stopped operations at its only domestic manufacturing plant in Fukaya, Saitama Prefecture.
Toshiba has other LCD TV factories in Poland, Egypt, Indonesia and China.
Japanese electronics firms are struggling with a shrinking TV market and competition from South Korea.
Companies in Japan have also had to deal with a strong yen, which makes their products less competitive overseas.
However Atsushi Ido, a spokesman for Toshiba, said by email that while exchange rates always affect businesses, this was not a consideration in the decision.
Shares of Toshiba, which also has infrastructure and consumer electronics businesses, gained 5.6% in Tokyo trade on the news.
Shares of other Japanese TV makers Sony and Panasonic were also higher.
"The same sentiment goes for the other guys. If Toshiba is getting out, everybody must be getting out," a senior dealer at a European bank told Reuters news agency.
Japanese rival Hitachi has previously said it will also halt domestic production of television sets.