French Connection issues profit alert as sales falls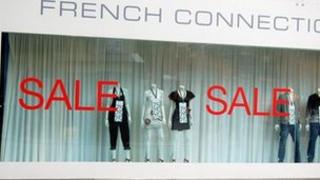 Fashion chain French Connection has issued a profits warning, with sales and revenues continuing to fall.
The company said sales in the past three months were down a "disappointing" 12%.
French Connection shares were down 22% at midday after it announced that profits were "unlikely" to meet current estimates by financial analysts.
"Consumer caution" and "ongoing economic difficulties" continued to affect its operations, it said.
The company also said that forward orders for the winter season were slightly lower than for the same period last year.
However, trading in the US and some other international markets were improving, the company's statement said.
In March, French Connection began a strategic review of its UK retail operations. The company's share price has fallen more than 60% since last October.
Andrew Wade, retail analyst at Numis Securities said the UK sales decline was much worse than his forecast for a fall of 2.5%.
He added that while the retailer's trading this year was affected by the wet weather and comparisons with Royal Wedding trading last year, it was likely French Connection had underperformed against its rivals.
"Over the last 15 years, UK clothing has become an increasingly competitive space, particularly at the fashion end, and any turnaround will take time to execute."
The retailer said in March pre-tax profits had fallen to £5m for the year to 31 January from £8.9m the previous year.
Its UK retail division reported a loss of £8.2m after cutting margins to maintain sales.