US imposes import tariffs on Chinese solar panels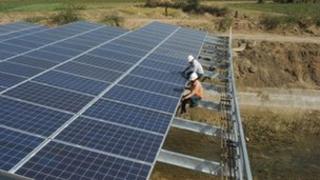 The US has said it will impose tariffs of about 30% on imports of solar panels from China.
The Commerce Department sided with US-based solar panel companies, ruling their Chinese competitors were flooding the US market with government-subsidised products.
The US had already set customs duties on Chinese manufacturers of between 2.9% and 4.73% in March.
It was the latest escalation of trade tensions between the two countries.
The decision by the Commerce Department is preliminary, and the companies will have the option to challenge the tariffs before they are made final later this year.
Most of the top Chinese exporters are affected, including Suntech Power Holdings and Trina Solar.
The ruling came after several US solar panel manufacturers, led by SolarWorld, asked the government to penalise Chinese companies for dumping low-priced products on US markets.
Opponents of the decision, however, said the tariffs could hurt the industry as a whole.
They argued that less expensive imports had helped make solar panels more affordable for US customers.
Jigar Shah, head of the anti-tariff Coalition for Affordable Solar Energy, said this could lead to job losses calling it "a heavy blow for America's solar industry".
He said the tariffs should be reduced before they are confirmed later this year.
The US and China have sparred on many trade issues in the past, mainly stemming from US allegations that Chinese exports were being made more competitive by a currency that was being kept artificially cheap.
Earlier this year, US President Barack Obama announced a new task force that would crack down on unfair practices by America's trading partners.