Farming sector profits rose 25% in 2011, says NFU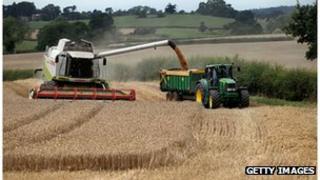 The UK's farming sector saw its overall profit rise by 25% last year, according to the National Farmers Union (NFU).
The NFU said farming's overall profit was £8.84bn in 2011, up £1.75bn.
Rising prices for meat and grain on the international markets have helped to boost farmers' income.
On Monday, US wheat prices hit a seven-month high in trading in Sydney. Last week, wheat prices had risen by 17% as hot, dry weather hit the southern plains of the US.
"With stocks depleted and demand from emerging markets rising all the time, supply and demand have been on a knife edge, with just small changes in supply prospects causing big swings in prices," the NFU said.
The report highlights the contribution made by British farmers to the UK economy.
"Together, farming and food make up a precious oasis of growth and potential at a time when the economy generally is struggling," the report says.
Food exports grew by 11% last year, which makes food and drink the fourth largest export sector for the UK, according to the NFU.
Employment has also been growing in the agricultural sector. According to the most recent government figures, agriculture employed 303,000 people in 2011, up 3% on 2010.
The NFU uses gross value added (GVA) to measure farming's contribution to the economy.
GVA is the value of goods and services produced by a sector minus the raw materials and other inputs used to produce them.