JPMorgan suspends share buy-back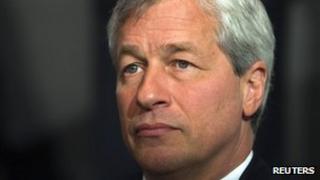 JPMorgan Chase has suspended its share buy-back programme, following a recent $2bn (£1.2bn) trading blunder.
But the bank's chief executive, Jamie Dimon, said at a conference in New York that it would keep paying a dividend.
JPMorgan was scheduled to buy back $15bn of shares over the next year, but it now needs the cash to meet new rules on the capital banks must hold.
The news came as the Commodity Futures Trading Commission confirmed that it would investigate the trading losses.
The Securities and Exchange Commission and the FBI have already said that they would be probing the losses made at the largest U.S. bank.
Mr Dimon said that the buy-back was suspended because the bank needed the cash to meet stricter international bank capital rules that are due to come into force soon.
Shares in JPMorgan fell 1.3% on Monday.
'Box this thing'
Explaining the suspension of the buy-back, Mr Dimon said: "Obviously, we're not going to make as much money."
"We intend to restart it, but we need to box this thing first," he added.
By that, he means deal with the fallout of the shock loss.
"We made a commitment to ourselves and to regulators," he said. "They were quite clear that companies like us have to pass a stress test, which we did."
The trading loss on derivatives - made by its chief investment office - won't hurt the bank's balance sheet, Mr Dimon said.
Last week, the Wall Street firm said Ina Drew, who oversaw the London-based division responsible for the trading mistake, will leave after more than 30 years.
The losses were made at a small trading unit in London.
Reports suggest that other members of the desk may also resign and the size of the bank's eventual loss could increase.
The trading loss was revealed in a regulatory filing, and will dent the company's profits, although it still expects to make about $4bn this quarter.
News of the losses shocked Wall Street and sparked more debate about the regulation of the financial sector.
Gary Gensler, chairman of the Commodity Futures Trading Commission, told journalists at a financial conference that the investigation is "related to credit derivatives products as traded by the chief investment office of JPMorgan Chase." He declined to give any details.