Mothercare pushed into loss by UK business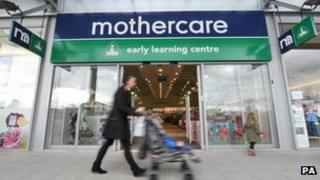 Babywear retailer Mothercare has reported a hefty annual loss as the retailer takes steps to turn around the fortunes of its struggling UK business.
Losses for the year to 31 March were £102.9m, compared with a profit of £8.8m the year before.
The loss came after Mothercare wrote down the value of assets and took charges related to UK store closures.
Mothercare currently has 311 UK stores, but earlier this year it said it would cut this number to 200 by March 2015.
The retailer - which also operates under the Early Learning Centre brand - took a one-off charge of £104.4m to cover the costs of revamping its UK business.
"We have a long way to go, and the plan to bring the UK business back to acceptable levels of profitability will take three years," said chief executive Simon Calver.
Total sales at the company rose 6.4% to £1.23bn, but the growth was driven by Mothercare's stores outside the UK.
In the UK, total sales fell 4.6% to £560m, with like-for-like sales - which strip out the impact of store openings and closures - down 6.2%.
The firm said its UK business had struggled in the face of "a challenging economic backdrop" as well as increased competition.
However, total international sales rose 17.8% to £672.4m, with like-for-like sales up 6.1%.
Mothercare currently has 1,339 owned and franchised stores worldwide. Outside the UK, it has 409 in Europe, 318 in Asia, 290 in the Middle East and Africa, and 11 in Latin America.
New strategy
Mothercare issued two profit warnings last year, and its previous chief executive, Ben Gordon, stepped down in November.
Mothercare launched a major review of its business last year and has now outlined its plans for the next three years.
This includes shrinking the number of its UK stores to 200 and cutting costs in non-store operations.
It also aims to "rapidly expand" the number of stores it has in fast-growing overseas markets such as India, China, Russia and Brazil.
The retailer is also aiming to improve and expand its e-commerce business. It launched a new website for the UK at the beginning of May.