Thomas Cook appoints Harriet Green as chief executive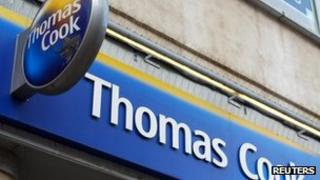 Troubled tour operator Thomas Cook has appointed a new chief executive.
Harriet Green, currently the chief executive at electronic parts distributor Premier Farnell, will take up the role in July this year.
She will face the task of reviving the travel firm, which last year issued three profit warnings and was forced to take an emergency £200m loan.
Former chief executive Manny Fontenla-Novoa resigned in August last year.
He was replaced on a temporary basis by his deputy, Sam Weihagen.
Thomas Cook chairman Frank Meysman said: "Harriet is an extremely successful executive with the right combination of international, business transformation and e-commerce experience that we need to take the group forward."
The travel company suffered poor trading last year, when its business was hit by the unrest in the Middle East and North Africa, and by weak UK spending.
Earlier this month, Thomas Cook announced a refinancing package worth £1.4bn ($2.3bn) which gives the company a further three years to repay its debts.