April house price drop confirmed by Land Registry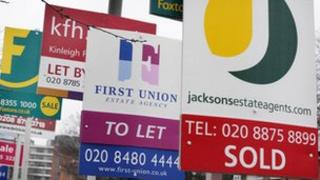 The fall in house prices last month, following the end of the temporary stamp duty holiday for first-time buyers, has been confirmed by the latest data from the Land Registry.
It said prices in England and Wales dropped by 0.3% in April.
That took the average price down to £160,417, 1% lower than a year ago.
The drop confirms the downward price movements seen in recent surveys by the Halifax, Nationwide and the Royal Institution of Chartered Surveyors.
'Sharp' divergence
The Land Registry's figures again showed the widespread variation in prices and trends in England and Wales.
Prices in London shot up by 5.1% during April, to leave them also 5.1% higher than a year ago.
But the West Midlands experienced the largest monthly drop, at 2.7%.
Meanwhile the biggest annual drop in prices was recorded in Yorkshire and Humberside, where the average house price is now 5.6% lower than a year ago.
"The divergence between house prices in London and those of the rest of the country has increased sharply this month," the Land Registry said.
"The average price of property in the capital is £360,721 in comparison with the average for England and Wales of £160,417."