Jaguar Land Rover reports higher profits and sales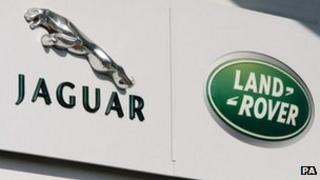 Jaguar Land Rover, the Indian-owned car manufacturer, has reported a 34% rise in profits after sales hit a record high.
In 2011-2012 the group made pre-tax profits of £1.5bn, up from £1.12bn the year before.
Retail sales were up 27% to 305,859 units, with parent, Tata Motors, attributing the significant increase to strong demand from China and other emerging markets.
Chinese sales jumped 76% to 50,994.
The company's new Range Rover Evoque, a compact 4x4, has proved particularly popular, the company said.
Pre-tax profits for the quarter ended 31 March were £530m, up from £299m for the same quarter last year. Revenues were up 51.5% at £4.14bn.
JLR's parent company Tata Motors also reported results. Net profit for the year to the end of March came in at 135.7bn rupees ($2.4bn; £1.6bn), up 47% from the previous year.
Although the UK remains Jaguar Land Rover's biggest market, with retail sales of 60,022, up 3.2%, the group now exports 80% of its production.
Sales to India rose 153.3% to 2,138, while sales to Brazil rose 62.2% to 9,027, as buyers in emerging markets warmed to the luxury brand.
"What we saw in today's results was China emerge as their key market," said David Bailey from Coventry University Business School.
"There's a big middle class there that wants to drive upmarket cars and what better way to do that than, say, drive a Range Rover Evoque?"
Commenting on the results, Ralf Speth, JLR chief executive, said: "Today's announcement... is a positive reflection of the continued level of consumer confidence in both of our brands.
"These record earnings, driven by strong product demand and operating efficiencies, give JLR the financial impetus to sustain its ongoing investment programme."
In March, the luxury car maker announced a joint venture agreement with Chinese manufacturer Chery Automobile, to build vehicles for the Chinese market.
But the agreement has yet to receive regulatory approval from the Chinese authorities.
Also in March, JLR announced it was creating 1,000 new jobs at its Halewood factory on Merseyside.
The carmaker said it needed more workers in order to meet strong demand for its Range Rover Evoque and its Freelander 2.
It decided to move Halewood to three shifts a day and run the factory around the clock.
Separately, Jaguar Land Rover's Range Rover Evoque has been has been shortlisted for the Royal Academy of Engineering MacRobert Award.