Cautious approach to credit cards from consumers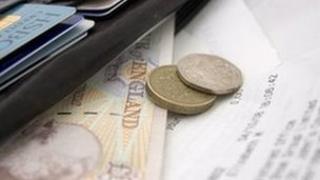 Credit card lending in April recorded its biggest monthly contraction since August 2006, Bank of England figures show.
Repayments outstripped new borrowing by £118m, although lending through loans and overdrafts grew.
The figures offer further evidence of families taking a cautious approach to debt in the current economic climate.
Total lending to individuals rose by £1.4bn, in line with the average of the previous six months, the Bank said.
Savings effect
Credit card borrowing has contracted in four of the last six months. However, there is some volatility in the figures, as borrowing on plastic rose by £200m in March.
"A cautious approach to credit card debt in the current climate is no bad thing," said William Hunter, of Hunter Wealth Management.
"Many households have a fair amount of debt already and so a move away from credit card debt is far more sensible than 'maxing out'.
"The irony is that an economy where consumers are cautious is going to struggle to grow. Debt pay-down is a double-edged sword and the Bank of England knows that."
There is some evidence of consumers dipping into their savings instead of borrowing.
Separate figures from the Building Societies Association showed that withdrawals from accounts in mutual societies outstripped new saving for the fifth month in a row in April.
However, this contraction of £463m was about half of the level seen in the previous month.
'Credit is tight'
Mortgage lending remained relatively static compared with recent months, the Bank of England's figures showed.
The number of home loans approved for house purchases rose slightly from 51,067 in March to 51,823 in April. However, the latest figure was down on the previous six-month average.
"Relatively tight credit conditions may well make it hard for many people to get a mortgage," said Howard Archer, of IHS Global Insight.
"On top of this, some mortgage rates have risen recently due to lenders' higher borrowing costs in wholesale markets and this could well weigh down on housing market activity."
Approvals for remortgaging were also up slightly from March, to 31,214 in April.
These figures remain well below the level seen during the housing boom. In late 2006, nearly 130,000 mortgages were approved for house purchases per month.