House prices stable despite recession, says Nationwide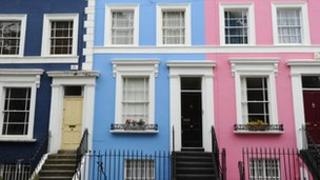 House prices in the UK are still "fairly stable" despite the economy falling back into recession earlier this year, the Nationwide building society has said.
The lender said prices rose by 0.3% in May, to £166,022, but this had still left them 0.7% lower than a year ago.
The Nationwide said demand for homes was low due to high unemployment.
But prices were being propped up by the current dearth of new homes being built.
"Demand for homes remains subdued on the back of weak labour market conditions, but the lack of homes coming onto the market is providing support for prices," said Robert Gardner, the Nationwide's chief economist.
"This is in part a reflection of the low rate of building in recent years which has failed to keep pace with household formation."
Earlier this month, government figures revealed that the number of new homes started by home builders in England fell again in the first three months of the year.
The Department for Communities and Local Government (DCLG) reported that public and private house builders started building just 24,100 new homes in the quarter.
That was an 11% drop from the last three months of 2011, and a 15% drop from the first quarter of last year.
The Nationwide said this was affecting the rental market as well as the market for home buying.
It pointed out that London, as well as having far and away the highest house prices, also had the most expensive rents, where they currently absorb nearly 40% of earnings.
Lending cut
House sales across the whole of the UK have, in the first four months of the year, been 13% higher than in the same period of last year.
But it is widely suspected that sales have been artificially boosted by first-time buyers who completed their house purchases in time to beat the reintroduction of stamp duty.
The temporary stamp duty holiday ended on 24 March for first-time buyers who were purchasing properties worth up to £250,000.
Mark Harris, of mortgage broker SPF Private Clients, said: "We are far from seeing a sustained recovery in the housing market.
"As with the slight increase in mortgage approvals in April reported by the Bank of England yesterday, the volumes of business being done remain extremely low."