Manchester United: Chevrolet to be club's car sponsor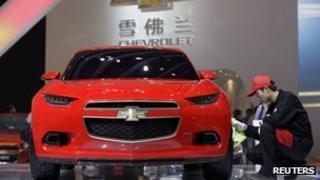 General Motors (GM) has signed a sponsorship deal with Manchester United that will see the carmaker's Chevrolet brand become the football club's official car sponsor.
The deal is to run for five years, but no financial details have been released.
The US carmaker said Manchester United stood "head and shoulders" above other football teams.
GM's UK-based Vauxhall business sponsors the England football team.
Chevrolet replaces Audi as Manchester United's car sponsor.
The German brand had sponsored the football club since April 2004.
GM said it hoped the deal would help it "build global icon status" for Chevrolet.