Xstrata boss offered £29m to stay after Glencore merger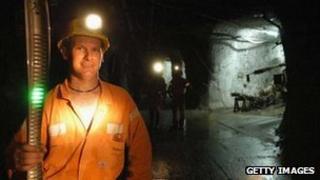 The head of Anglo-Swiss mining firm Xstrata has been offered almost £29m to stay on as boss once its merger with Glencore is completed.
Chief executive Mick Davis will get £9.6m as "retention payments" for each of the next three years if shareholders approve, new mergers documents show .
He is already one of the best paid bosses of a FTSE 100 company.
The merger of Xstrata with the world's biggest commodity trader will create a firm valued at $90bn (£56bn).
Of that, $39bn (£25bn) would come from Xstrata. The offer was agreed in February and is described by the two firms as a "merger of equals".
According to the documents, Mr Davis' retention award will be paid as two-thirds in cash and one-third in options on Glencore shares.
In total, 64 of Xstrata's senior employees are being offered £46.4m for each of the next two years.
The payments have been offered to managers "whose positions are critical for our businesses and whose continued employment is key to integrating the two businesses and maintaining and enhancing the value of its operations and growth projects".
Huge operation
The new group will be the world's biggest exporter of coal for power plants, and the largest producer of zinc.
Xstrata owns vast reserves of coal, copper and nickel across Africa, South America and central Asia.
About half of its revenues came from its copper business in 2011, while coal contributed the most to its profit growth.
Glencore only floated on the stock exchange in May last year in a record share offering in London.
The traditionally secretive Swiss firm buys and sells metals, crops and fuels in the financial market and invests in mining companies, but - unlike Xstrata - Glencore does not itself usually extract minerals out of the ground.