Unsung heroes of Scotland's potato industry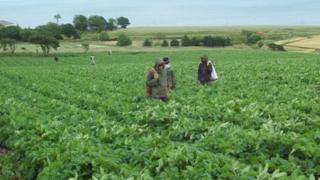 Every year, as exams draw to a close, thousands of students are looking for summer jobs.
For Maciej, a former Aberdeen University student, an offer to go seed potato "roguing" turned out to be the right opportunity.
"Roguing seemed like a perfect outdoor job with beautiful landscapes and friends," he says, having filmed the experience and posted it on You Tube .
"Of course, it wasn't all about it being idyllic, but it was a great feeling, stretching your back in the morning while overlooking the sea and castle on the edge of the cliff in Stonehaven."
Weeding for money
It is an odd activity, which as the name indicates involves the removal of rogue potato plants from otherwise healthy and desirable crops.
The rogues can be plants that grow as weeds from a previous crop, or from the wrong variety planted along with the intended crop seeds, explains Dr John Kerr, head of the potato branch at the government body Science and Advice for Scottish Agriculture.
Or they can be plants with virus or blackleg, or plants that are not "true-to-type", meaning they have the wrong morphology and are therefore too tall or deformed in another way, he adds.
Roguing can be done from a few weeks after the potato plants emerge until the crop is harvested, but it usually is done in the days before an official seed inspection, which in Scotland is during July.
All seed crops are inspected twice before being certified by government inspectors.
Roguing can allow the crop to pass inspection, making it worth perhaps four times the value of a ware or stock feed crop - which is what it would become if it were to fail, Dr Kerr explains.
Big earner
As such, potato roguers add major value, mainly for Scotland's growers, but also for the country as a whole.
"These folks are unsung heroes of our food-supply chain and should be applauded, as the work is sometimes hard and done under difficult conditions with lots of rain," says Dr Kerr.
"Though in good years, in most crops roguers will have little to dig and carry, so they might get a good day in the sun."
Each year, Scottish growers produce some 400,000 tonnes of potatoes. Some 300,000 tonnes is sold, the rest is replanted.
The bulk of the crop is sold within the UK, bringing in some £50m, with an additional £9m raised from exports to European Union (EU) countries, according to the Potato Council.
A further £21m worth of potatoes is sold beyond the EU.
"The Scottish seed potato industry has an excellent reputation worldwide as a reliable supplier of high-health seed potatoes," says Alistair Melrose of A J Allan, a seed potato growing company.
"The climate in Scotland means that aphid populations are generally low, meaning that virus diseases are usually not a problem.
"Because of our situation, [they are] free from bacterial diseases such as ring rot and brown rot, which not many of our competitors can claim."
Know your potatoes
It is essential to be fit to become a roguer, though it is also important to know what to look for.
Roguers receive a week of training to identify not only the variety of potato plant, but also whether it is diseased or healthy, according to James Muirhead, senior plant trials officer at the Scottish Agricultural College.
There is even a final exam, where students are presented with 30 plants.
They are expected to identify either the variety of a healthy plant or identify any disease which they think may be present.
'Potato chaos theory'
Most roguers, such as Maciej, do it for one season only.
"It is exhausting, sometimes boring," he says.
"There are fields where most potato plants are healthy, which means we just walk about for hours. Rouging is really about walking, walking and walking. You need to check every plant on the field.
"At other times we were running out of sacks, as there were just too many bad plants."
But there are also those who come back every year, and Maciej understands why.
"It's not every day that a group of different people from different parts of the world find themselves working in a potato field in north-east Scotland," he says.
"And when you're looking at those turns you made, and you find some seemingly random plants, it can be fascinating. A sort of potato chaos theory, I guess."