Societe Generale rogue trader begins appeal hearing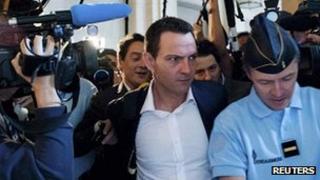 Former Societe Generale trader Jerome Kerviel has begun his appeal against a forgery and breach of trust conviction, claiming he was "not responsible" for losing the bank billions of euros.
Kerviel, who was also convicted of unauthorised computer use, said his bosses knew what he was doing.
In 2010, the ex-trader was handed a five-year prison sentence, with two years suspended.
The ex-trader lost the bank 4.9bn euros ($6.1bn; £4bn) in 2008.
"I am not responsible for this loss and the acts I am accused of," Kerviel said at the appeal hearing in Paris.
"I always acted with the knowledge of my hierarchy."
He has always maintained the bank knew of his 50bn-euro trading position, but was happy while he was making a profit.
However, after Kerviel's former bosses and colleagues lined up to testify against him, the judge at the 2010 trial ruled that the trader "knowingly went beyond his remit".
He was originally ordered to repay the 4.9bn euro losses, but Societe Generale said it would not demand that all the money be returned.
The bank was also fined 4m euros by French regulators for failures in its internal risk management systems following the scandal.
The appeal hearing is expected to last for the whole of June.