Unicredit former boss Alessandro Profumo to stand trial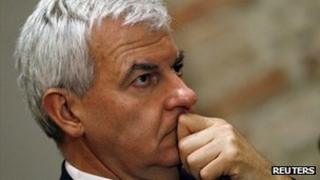 The former boss of Unicredit, Italy's largest bank, will go on trial for alleged corporate tax fraud, a Milan judge has announced.
Alessandro Profumo, currently chairman of Banca Monti dei Paschi di Siena, and 19 other executives stand accused of hiding tax liabilities using instruments arranged by Barclays.
Mr Profumo, who denies any wrongdoing, resigned from Unicredit over share sales to Libya.
The trial will begin on 1 October.
"I await a public judgement confidently and impatiently, as I am certain of the correctness of all my activities," Mr Profumo said.
"This will also put an end to the inevitable reputational damage that I am suffering, however unjustly."
The case revolves around the use of complex financial instruments, known as Brontos, allegedly to evade tax.
Mr Profumo stands accused of having authorised the operation.
He resigned from Unicredit in September 2010 after Libyan investors increased their stake in the bank, having run the company for 13 years.