UK house prices will flatline, says the Halifax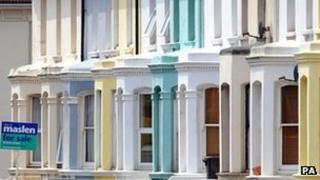 UK house prices will end the year at the same level as now owing to tough economic conditions, a lender has predicted.
The Halifax, now part of the Lloyds Banking Group, said prices were broadly the same as a year ago, falling by 0.1% in May compared with a year earlier.
Various surveys have suggested the UK housing market is relatively stagnant.
But Halifax said prices had picked up between April and May, rising by 0.5%, to an average of £160,941.
These monthly figures are relatively volatile, having shown a 2.3% fall between March and April.
The three-month on three-month measure showed a 0.8% rise in prices by the end of May.
"While there has been a modest improvement in the trend for house prices recently, the current average UK price is very similar to the levels both a year ago and at the beginning of this year," said Martin Ellis, housing economist for the Halifax.
"We expect this situation to continue with prices likely to still be around today's levels at the end of 2012 as the ongoing tough economic environment constrains housing demand."
He said that uncertainty in the economy and an "intensification" in the eurozone crisis meant that lenders would continue to be cautious in offering mortgages. This would continue to put the brakes on any housing market activity or price rises.
The interactive content on this page requires JavaScript
'Stable'
Halifax and rival Nationwide construct their house price data from samples of their own mortgage lending.
A recent Nationwide survey suggested that prices were "fairly stable". The lender said prices rose by 0.3% in May, but this still left them 0.7% lower than a year ago.
The year-on-year comparison is calculated slightly differently by the two lenders. The Halifax compares the previous three months with the same three months a year earlier to give a smoother comparison, rather than a direct comparison of the equivalent months as calculated by the Nationwide.
One industry commentator said that a stable market was actually a sign of inactivity.
Ashley Alexander, managing director of estate agent review website MeetMyAgent.co.uk, said that major sporting occasions this summer would mean fewer people spending time out househunting.
"There are simply too many factors preventing a purchase. A lack of stock generally, intransigent sellers, tougher lending criteria and consumer caution are keeping transaction levels low," he added.
"Even the prospect of low interest rates for another year or two, or even three, is not enough to convince people to buy."
The Land Registry survey, widely regarded as the most comprehensive although it only covers England and Wales, suggested that prices had fallen by 1% in April compared with a year earlier.