Qantas shares fall below dollar mark after S&P review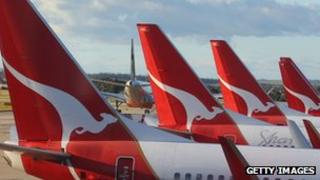 Qantas Airways shares have fallen below the one Australian dollar mark for the first time, after ratings agency Standard & Poor's put the airline on review for a possible downgrade.
Shares in Australia's largest carrier fell 8.5% to 97 cents, before recovering slightly to 99 cents.
Qantas said this week that profits could drop by 90% because of mounting losses on international routes.
The airline has struggled with slowing demand and higher fuel prices.
Qantas shares have fallen by nearly a third in four days of losses. That has wiped 1bn US dollars off its market capitalisation from $3.2bn (£2.01bn) to $2.2bn, according to data compiled by the Bloomberg news agency.
On Tuesday, Qantas said that international losses would reduce the airline's profit this financial year to as low as A$50m ($48.6m; £31.6m).
The company blamed the worsening aviation landscape because of the European economic crisis, and its "highest ever jet fuel bill".
S&P said the earnings projections were below expectations when it put Qantas on credit watch.
It said Qantas' BBB investment grade, which is two levels above junk status, would undergo a review in the next 90 days.
A downgrade to junk status would make debt funding more expensive, and potentially hurt Qantas' plans to expand in Asia.