Hornby turns to Moshi Monsters to offset UK profit fall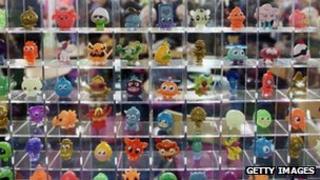 Toy maker Hornby is hoping 2012 Olympic merchandise and a range of Moshi Monsters pin badges will help it to offset a slump in its UK profits.
The firm, best known for its model railway sets, saw UK pre-tax profits drop to £3m from £4.3m last year as customers reined in their spending.
Stronger sales in Europe and the US meant group pre-tax profit was £4m, down slightly from last year's £4.1m.
The firm said its new product range would help it counter the downturn.
Hornby is planning a range of collectable Moshi Monsters pin badges, and has also launched a Star Wars-based Scalextric range, a number of James Bond-related products and a series of mini collectable vehicles.
"Our ability to broaden our product and distribution base will enable us to mitigate to some extent any short term weakness in our traditional hobby sectors," said Hornby chief executive Frank Martin.
TV tie-in
Hornby issued a profits warning in January after sales of its train and slot-car racing sets were hit. The firm blamed "fragile consumer confidence" in the run up to Christmas for the fall in UK sales.
The firm, which also owns the Airfix and Corgi brands, however said its strategy to diversify the business was now paying off.
While sales of its Hornby model railway sets were broadly similar to the previous year, its new Brighton Belle five car set and Flying Scotsman locomotive had seen "notable success" it said.
The toy maker is also benefiting from its licence to manufacture and sell Olympic merchandise. It said its Corgi series of London 2012 branded bus and taxi ranges were selling well.
It has also developed a range of toys based on popular children's TV series "Olly the Little White Van."
Analyst house Numis upgraded its rating on Hornby to "buy" following the results, saying sales of its Olympics-branded products and diversification meant the outlook was "encouraging."