Metro Bank to open new branches across the South East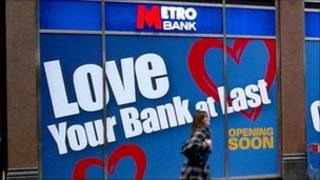 Metro Bank, which first opened in London in 2010, plans to expand its business across the South East with another seven branches.
New branches are planned for Brighton, Reading, Hemel Hempstead, Romford, Staines and Epsom.
Its expansion marks another sign of increasing banking competition after Marks & Spencer said last week it would begin offering bank accounts in its stores.
Metro Bank first opened in 2010.
It became the first High Street challenger to the established banks in 100 years.
Tesco is also planning to launch its own current account next year. It already has 6.5 million customers for its existing financial services.
Metro Bank said it has raised £126m to fund its growth from new and existing institutional and personal investors.
The bank remains a minnow compared to the big four, Barclays, HSBC, Lloyds and RBS, with just 80,000 customers.
The others number accounts in the millions.
It distinguishes itself from the competition by staying open far longer than its rivals, with service in stores available on weekdays from 08:00 to 20:00 and at the weekends for six hours a day.
Once the expansion plan is complete Metro will have 700 employees.
The government is keen to see a wider range of businesses offering banking services.
It set up the Vickers Commission on Banking, which recommended that steps should be taken to make it simpler to switch bank accounts.
A number of retailers and supermarkets offer credit cards, loans and savings products.