Motor industry cries out for finance and engineers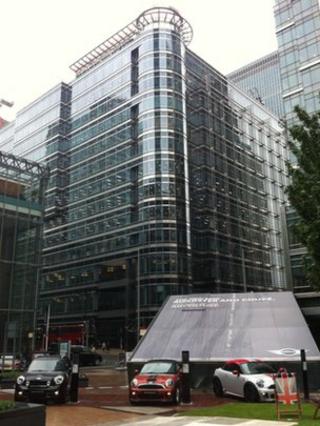 The staging of a car show in the heart of London's Canary Wharf is a potent symbol.
Not only does holding the Motorexpo in Docklands illustrate the dependence of the UK's motor industry on the world of finance; it also points to how the City has become one of its toughest rivals.
What car makers and component suppliers need to thrive are cash and talent.
Both these scarce resources can be found here.
But that is not to say it is easy for industry players to get hold of them.
Stimulating growth
Cash, or rather investment funding, is often hard to come by for companies in the motor industry, especially for parts suppliers or dealers that are often relatively small.
This is a challenge Paul Everitt, chief executive of motor-industry body SMMT, has been keen to tackle for some time.
"Improving access to finance and credit has the potential to stimulate growth in UK automotive's small and medium-sized companies, enabling them to develop facilities, tooling and machinery to take advantage of broader automotive growth," he says.
"By achieving competitive funding for UK businesses, the UK can take a larger share of the components market."
Talent, meanwhile, is also in short supply, not least because many of the best engineers in the UK are snapped up by City firms, according to Nick Pascoe, who runs Controlled Power Technologies, a relatively small technology company specialising in petrol-electric hybrid solutions for the motor industry.
"All of the motor industry is crying out for good-quality engineers," he says. "But many of them are only too happy to come to Canary Wharf and get into finance instead."
Mutual benefits
Richard Hill is among those who have chosen to work in banking rather than the motor industry.
Four years ago, at the height of the credit crunch when the car industry was in dire straits, he left the sector to join Royal Bank of Scotland.
But his departure was no desertion.
Rather, the task he was given was simple: help the bank understand the motor industry, to make it possible to provide finance for struggling dealers and component makers.
"The way the motor industry is structured and driven, it is a challenging environment to lend to," Mr Hill says, pointing to how the sector is capital intensive, generally offers low returns, and how debt levels are generally restricted by companies' balance sheets, which are often far from healthy.
But at the same time, there are plenty of opportunities for those in the know.
For instance, many suppliers or dealers say banks often take too long to make decisions, a particular difficulty for a sector as nimble as this, according to a report by The Smith Institute, published late last year.
"When you don't have an understanding of the business, those opportunities could be missed," says Mr Hill.
Similarly, the motor industry would benefit from a broader view of the finance options that are available.
"It's not just about traditional debt, such as overdrafts or loans," he says.
For example, structured finance products can be used to fund acquisitions or mergers, trade finance can help a component supplier expand internationally, while stock finance can help a dealer ensure there are enough cars in the showroom.
"Things have changed, or are changing, or could change if we work harder to understand each other," Mr Hill says.
"We need to bring the two worlds closer together."