Vietnamese not feeling effects of slowing inflation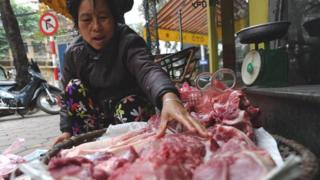 It took Tran Thi Bich Thuy 15 minutes to decide what to buy at the market in Hanoi for dinner.
Mrs Thuy admits she's heard of easing inflation 'on the radio', but in reality neither she nor other housewives have witnessed any drop in prices.
"I was considering whether to buy meat or fish for the main course," Mrs Thuy says, laughing at her own indecisiveness.
"Everything is so expensive, so finally I decided on a kilogram of pork at 105,000 dong ($5; £3.20)."
According to government statistics, consumer prices have been easing with inflation. In May, the rate was 8.3%, the lowest figure since August 2010.
Last week, the subsiding inflation prompted ratings agency Standard & Poor's to change its outlook for Vietnam from negative to stable.
"The outlook revision reflects our assessment of a reduction in the risks to macroeconomic and financial stability in Vietnam," reads a statement from S&P.
But the policies that ease inflation also hurt growth.
Vietnam's gross domestic product grew 4.1% in the first three months of this year from a year earlier, the slowest since 2009.
Boosting growth
As inflation pressure eases, the government has started taking steps to get the country growing at a fast pace again.
Last weekend, the State Bank of Vietnam (SBV) cut interest rates for the fourth time this year.
The discount rate and the refinance rate was reduced by 1% to 9% and 11% respectively.
The Vietnam dong deposit cap would also be lowered by 2% to 9%.
But businessman Nguyen Van Chuong, 42, says he has yet to experience any positive impact of the previous cuts.
Mr Chuong, who runs a trading company, says businesses like his still find it impossible to borrow money from banks at a rate below 15%.
"17%-18% is more likely," he adds.
'Tough conditions'
Le Dang Doanh, a renowned economist and former advisor to the Prime Minister, says any policy takes time to be realised.
"Commercial banks have mobilised savings from the population at higher interest rates and they will take time to reduce the lending rate in order not to make too much loss.
"This will create a delay of two to three months, depending on individual banks."
He says the cuts show that the central bank is "making efforts to reduce credit costs for businesses who have been exhausted by sky-high interest rates in the last two years".
In the first four months of this year, according to Vietnam Ministry of Planning and Investment, some 18,000 businesses went bankrupt after falling victims of the credit crunch fuelled by inflation.
The real figure is said to be much higher.
Many companies are still reeling under old debts, lacking collateral and deemed unfit to secure loans.
"Other financial tools such as credit guarantee or debt refinancing funds are needed to assist companies to operate," suggests Dr Doanh. "Otherwise, the credit deadlock is still there."
In fact, a recent assessment by HSBC names 'tough operating conditions for businesses in Vietnam', as one of the main factors behind the slowing of the country's economic growth in the first quarter of the year.
The bank also says in a statement: "With the external environment looking more fragile, the country's growth outlook looks challenging".
Cautious outlook
HSBC forecasts the full-year growth in Vietnam to be 5.1%, not too different from the 5.2% forecast by the SBV.
This is the lowest rate since 1999.
The government has set a more optimistic target of 6% for the year of 2012.
For a developing country like Vietnam, maintaining a healthy growth rate, while keeping inflation at bay, is seen as vital to keep the society stable.
But it seem that cutting interest rates alone is not doing enough to boost credit growth and kick start the economy.
Until more visible progress can be seen, ordinary Vietnamese maintain their cautious outlook of the economy.