US retail sales fall further in May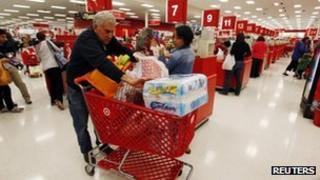 US retail sales fell for the second month in a row in May, indicating that growth in the economy remains sluggish.
Retail sales fell by 0.2% last month, according to the US Commerce Department.
The figure was helped by a 0.8% rise in motor vehicle sales. Excluding this increase, sales were down by 0.4%, the sharpest decline for two years.
Revised data also showed that retail sales fell by 0.1% in April, worse than the initial estimate of a 0.1% rise.
US households are cutting back on spending as the world's biggest economy copes with slowing economic growth.
Lower petrol prices helped to reduce household bills but they also reduced spending on fuel which sparked a decline in receipts for petrol retailers.
The retail sales data is closely watched as consumer spending accounts for about 70% of economic activity in the US.
"There is clearly some slowing in the pace of consumer spending broadly suggesting noticeably slower growth in consumption in the second quarter," said Julia Coronado, chief economist for North America at BNP Paribas in New York.
Last month, GDP figures showed that the US economy grew at an annualised pace of 1.9% in the first three months of 2012, down from an initial estimate of 2.2%.
The slower growth rate followed a modest downward revision in consumer spending.