Income fall 'biggest since 1981', say tax experts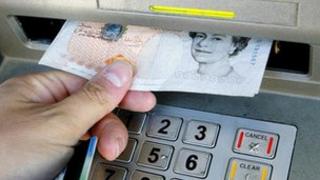 UK households saw their average take-home incomes drop by 3.1% in 2010-11, according to research by the Institute for Fiscal Studies.
It said this was the first fall for five years and was the biggest drop since 1981.
The researchers said the fall was due to the belated effect of the recession between 2008 and 2010, during which incomes had still managed to grow.
The IFS predicted that average incomes would have fallen again during 2011-12.
And the process would continue, with real incomes, after taking account of the effects of inflation, dropping by 2016 back to the levels last seen in 2002-03.
"The fall in median income in 2010-11 of 3.1% was the largest one-year fall since 1981 and returned it to the level last seen in 2004-05," said Jonathan Cribb of the IFS.
"This was driven largely by a decline in real earnings, as the impact of the late 2000s recession on incomes finally started to become clear.
"Inequality also fell, as those on benefits had their incomes relatively better protected," he added.
Rich and poor
The IFS said that the fall in incomes recorded during 2010-11 had affected families at all levels.
In fact, the richest households had suffered bigger falls in their incomes than poor households.
That was because the incomes of the poor had been partly protected by state benefits, so they had fallen by less than the average.
The main reason for incomes falling at all was a drop in the real earnings of those in work.
Many people in jobs had endured very small pay rises or even pay freezes.
With those earnings being outstripped by inflation, their real value had been depressed.
By contrast, in the two years between 2008 and 2010 when the recession was in full effect, average household incomes had held up.
At the time inflation had been dropping and many homes had benefited from increases in tax credits and other state benefits.