Moody's cuts Dutch bank credit ratings on eurozone woes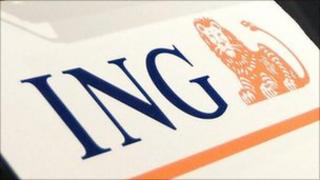 Moody's has cut the credit ratings of some Dutch and Belgian banks, including ING and ABN Amro, because of the eurozone debt crisis.
Long-term ratings at ING, Rabobank, ABN, LeasePlan and KBC were all lowered by two grades. SNS was cut by one level.
"Dutch banks will face difficult operating conditions throughout 2012 and possibly beyond," Moody's said.
The cuts come amid fresh worries about debt-laden Spain, Italy and Cyprus.
A general election in Greece on Sunday may also undermine financial confidence, with anti-austerity parties expected to do well.
The Netherlands "is affected by the ongoing euro area debt crisis and regional economic weakness," Moody's said in a statement.
Among the Dutch banks, ING is now rated A3, while its ING Bank unit was also downgraded two levels, to A2. Rabobank Nederland was lowered to Aa2, the third-highest investment grade, ABN Amro to A2, and LeasePlan Corp to Baa2.
SNS is now Baa2. ING's ratings have a negative outlook and those of the other lenders are stable, Moody's said.
Belgium's KBC Group was lowered two levels to Baa1, and its KBC Bank unit to A3.
"Adverse operating conditions, including the current recession and declining house prices in the Netherlands, will likely persist at least through 2012," Moody's said in its statement.
In a separate statement, Moody's said that the downgrade for KBC was due to the "bank's higher sensitivity to the deteriorating European macro-economic environment".
Moody's said that the domestic environment for Dutch banks has weakened far less than in other parts of the euro bloc, underlined by the country's Aaa debt rating.
The agency recently slashed the ratings on a string of Spanish and Italian lenders.