RWE axes plans for new nuclear plants outside Germany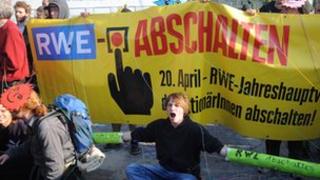 German utilities giant RWE says it will not build any new nuclear power stations in the UK and other countries outside its home market.
RWE took the decision because of the long-term financial risks and the cost of decommissioning its domestic nuclear plants, the firm said.
Germany decided to phase out its nuclear plants following the disaster in Fukushima, Japan, last year.
RWE had already announced it was scrapping plans for new UK plants.
In March, it said it was abandoning a £15bn plan to build nuclear power stations in Anglesey and Oldbury-on-Severn, near Bristol, with larger rival E.On.
RWE also owns a stake in a nuclear power plant in the Netherlands.
RWE, E.On and other German utilities firms have filed complaints with Germany's constitutional court, arguing that the nuclear exit decision had harmed them as they had to shut down reactors early.
E.On is seeking damages of about 8bn euros (£6.4bn) from the enforced shutdown of its German nuclear power stations.