Unison union to 'smash the pay freeze'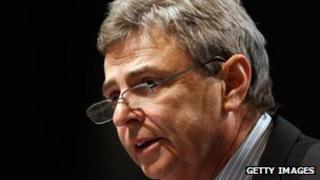 The leader of the biggest public sector union will warn on Tuesday of possible strike action over public sector pay.
Dave Prentis will tell Unison's annual conference in Bournemouth that the union will "smash the pay freeze" that workers across the public sector have endured in recent years.
"Our demand is for decent pay, for fair pay," he will say.
"And if we can't win fair pay through negotiations we will fight to win it through strike action if necessary."
'Struggling to survive'
In the 2010 Budget the government announced a two year pay freeze. Those earning £21,000 or less received an increase of £250 a year.
In the 2011 Autumn Statement pay was then set at an average of 1% for the 2 years that follow the current pay freeze.
Unison believes that pay has now become the main concern of many its 1.3 million members. It says that the issue has forced some into debt and led others to cut back on basics including food.
In a survey published to coincide with the conference it found that around half of those who responded said that their household income had fallen, with one in four describing their financial situation as "struggling to survive" or "difficult".
The union believes that pay has become the next main battleground for unions following the campaign over public sector pensions. It intends to campaign with other unions that represent public service staff to end the pay freeze.
Regional pay
Unison also fears that pay levels could be hit if the Government introduces regional or local pay.
In the Autumn Statement the chancellor said that there was a case for considering how public sector pay could better reflect local labour markets. The Treasury believes pay rates in the public sector can sometimes disadvantage private sector firms that are trying to recruit staff.
Unison says that local pay bargaining would increase bureaucracy, lead to staff shortages and hit local economies and families.
A Treasury spokesperson told the BBC that nothing had yet been decided. "It has always been the case that there will be no change unless there is evidence to support it," he said.