FSA chief Hector Sants gives £143,750 bonus to charity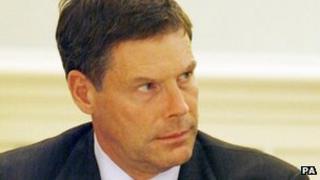 Hector Sants, the outgoing chief executive of the UK's financial regulator, has donated his £143,750 final bonus to the Art Room, a charity supported by the Duchess of Cambridge.
The 15-month performance-related award is detailed in the Financial Services Authority's (FSA) annual report.
Mr Sants was in office during the financial crisis in which banks such as Northern Rock and RBS had to be rescued by UK taxpayers.
He leaves the FSA at the end of June.
FSA abolition
This was the FSA's final annual report before its responsibilities are split between the Bank of England and the newly-formed Financial Conduct Authority.
The abolition of the FSA followed criticism about the body's failure to prevent banks such as Northern Rock and RBS from pursuing risky business strategies that, ultimately, led to their collapse.
Writing in the FSA's report, Mr Sants insisted that there was nothing more the FSA could have done to have materially changed the outcome of the crisis.
"I also believe that without our actions it would have been worse," he said.
Mr Sants was the FSA's highest paid director, receiving a salary of £500,000 plus £131,981 of other benefits and an extra £60,000 in lieu of pension contribution.
The Art Room, based in schools in London and Oxford, offers art therapy to school-age children with behavioural and learning difficulties.