Procter and Gamble issues second profits warning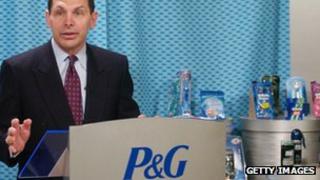 Procter and Gamble (P&G), the maker of Pampers nappies and Duracell batteries, has cut its sales and profits forecasts for the second time in two months.
The world's biggest maker of household goods said sales would be 3% higher than last year in the three months to the end of June, rather than 5%.
The US group warned profit would also be lower because of the economic downturn in Europe.
On Tuesday, Danone, the world's top yogurt-maker, issued a profit warning.
Cost cuts
In February, the firm announced plans to cut more than 4,000 jobs in a bid to reduce costs by $10bn by 2016.
That was in addition to 1,600 job losses unveiled the previous year.
P&G's chief executive Bob McDonald said he was pleased with the group's progress in cutting costs, but admitted the group was still failing to restore its profitability: "Where we've struggled is with operating profit."
The group blamed slower sales in developed markets such as Europe and the United States.
It is also losing out to cheaper rival brands, as US and European households cut back on their monthly grocery bills.
P&G shares opened down 3.7% in early trading in New York.