Farepak victim 'rages' at legal challenge abandonment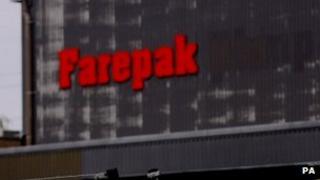 A victim of the collapse of Christmas hamper and vouchers company Farepak has told the BBC she is "absolutely raging" that a legal challenge against its former directors has been abandoned.
Farepak collapsed in 2006, leaving 116,000 customers with losses of £37m.
The government's Insolvency Service had gone to the High Court last month to try to get Farepak's former bosses barred from being company directors.
It said it had now abandoned the case after considering the evidence.
'Huge sympathy'
The Insolvency Service had taken up the legal challenge against the ex-directors, and Farepak's parent company European Home Retail, in January, on behalf of Business Secretary Vince Cable.
Louise McDaid, chair of the Farepak Victims Committee, told BBC Radio 5 liveBreakfast that she was now contacting Mr Cable.
She said: "We are asking Mr Cable to meet with us to explain to us why this has failed. And more importantly from our perspective, we need this never to happen again."
Mr Cable said he was "deeply disappointed" by the decision by the Insolvency Service.
He added: "I feel a huge amount of sympathy for those who lost out when the company went bankrupt.
"Without doubt, we need to reflect on this result, consider what options are on the table and seek further legal advice if needed."
'Unreasonable risk'
Swindon-based Farepak operated by collecting money from its customers on a monthly basis throughout the year.
Before each Christmas customers could then use the funds they had built up to buy hampers of food directly from Farepak. They could also choose to accept vouchers that could be redeemed at some of the UK's largest retailers, such as Argos.
Farepak got into financial difficulties after a rival went into administration. This resulted in its suppliers demanding funds upfront rather than accepting credit arrangements.
Farepak had also built up debts from a series of unsuccessful acquisitions.
The former directors named in the High Court case were Stevan Fowler, Neil Gillis, Nicholas Gilodi-Johnson, Stephen Hicks, Michael Johns, Paul Munn, Joanne Ponting, William Rollason and Sir Clive Thompson.
Lawyers for the Insolvency Service argued that the Farepak had traded at "unreasonable risk".
However, the legal representatives of the former directors said that the Insolvency Service's evidence "singularly failed" to establish a case for their disqualification.
One of their lawyers said: "What it comes down to in the end is essentially the commercial judgment and decision-taking of the defendants."